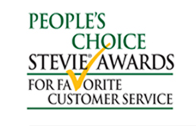 We kindly ask that you vote for Infinite Conferencing for the 2016 People's Choice Stevie Award for Favorite Customer Service.
Infinite Conferencing has been nominated as a finalist in the 2016 People's Choice Awards for favorite customer service in the telecommunications industry.
Infinite's best-in-class support has made it one of the leading audio and web conferencing, webinar and webcasting providers in North America. Since 2001, Infinite has grown to serve more than 15,000 customers globally. Infinite customizes each customer's specific need and delivers it as a service via the company's commitment to providing quality support.