Building Successful Webinars: Key Tips and Insights
Tuesday, January 17, 2012 at 2pm EST
Overview:
Join Bruce Newman, President of wwwebevents.com along with Sabrina George, VP of Marketing at Infinite Conferencing, as they present this free webinar. They will present key tips and insights on building a successful webinar program for sales and learning purposes. In this event, you'll learn:
Key components of webinar planning
Setting goals
How to structure sales webinars
How to structure educational webinars
How to measure your success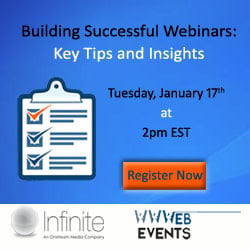 You'll leave this webinar knowing exactly how to build a webinar program, enhance relationships and generate sales. Click here.