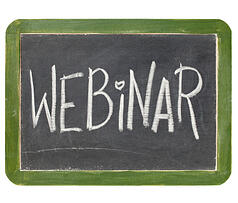 With all the advances in technology over the years, it has become increasingly easier for humans to stay connected to each other, no matter where they are. Some of these changes in technology have given birth to the ability to host on online webinar instead of having to get everyone into the same room at the same time. With this introduction to easier communication for businesses, it has become even more important to learn how to have a greater impact on your audience, particularly through the use of an interactive environment.
Because an Onstream webinar is the perfect way to network and reach a large audience more quickly and easily, it is important to make sure you make the most of this valuable tool.
1. Spread the Word –
If you expect anyone to attend your online webinar, you need to work to promote it. Make sure you include information about your event into all aspects of your current marketing plan, including your sales, customer service and marketing departments.
2. Check Your Technology –
Before you go live with your webinar, it is critical to make sure the platform is free of problems. Because any problems will reflect negatively on you and your company, it is your responsibility to ensure a reliable connection without lag times so your attendees will enjoy their experience. In addition to checking with your provider about these issues, you also have to make sure you have the proper bandwidth to accommodate your broadcast.
3. Watch Your Timing –
One of the most difficult aspects of hosting a
webinar
is your timing. Consider the schedules of the largest percentage of your attendees, choosing a time that is likely to work best for the most people. This can be difficult if your aim is to reach an international audience. Proper timing will require some research on your part. In general, though, choosing a time in the middle of the week is often best.
4. Be Clear –
When you are presenting live, it can be easy to slide in unintended sounds and words, slips of the tongue and other speaking problems. It is best to avoid these whenever possible. Practicing for your event ahead of time can help. This will allow you to leave a positive impression with your attendees.
5. Keep It Concise –
Using slides can help keep you on the right track through your presentation. However, you don't want to be too wordy when it comes to detailing what the attendees see in the slides. Instead, let the pictures and facts do the talking and keep your words short and concise, just enough to get your idea across.
6. Show Your Excitement –
An online webinar is supposed to be a professional event. While it is important to keep things on a professional level, you can't be afraid to show your excitement as well. It is critical to make sure your audience stays interested and engaged throughout your presentation. Showing a little enthusiasm can only help. If you need an extra eye to pay attention to what is going on in the chat features while you talk, this can help you gauge the reaction of your audience more easily.
7. Involve the Audience –
Don't be afraid to ask for input from your audience during your
online webinar
. Make use of polls and other features that Onstream Media's award winning Visual Webcaster platform has to offer. You may also want to take notes and implement some of the ideas you receive into your presentation to show your audience you are listening and care.
8. Create a Story –
All stories have a beginning, middle and end and flow smoothly throughout the entire story. You want to create this same effect for your online webinar. Use a story to start your presentation, gauging audience reaction so you can learn how to best impact them throughout your presentation.
9. Record Your Presentation –
Many providers now include the ability to record your event while you present live. The benefit of this is to be able to post it to your website after your online webinar is over and provide it via on-demand for those who weren't able to attend the live event. It also allows those who did attend to go back and review what they learned. However, there are instance where a webinar isn't worth posting online. In these cases, recording them and watching from an audience perspective can help you learn from your mistakes.
10. Reach Out Afterwards --
The end of your event isn't the end of your work. Make sure you reach out to your audience by sending out thank you emails to your attendees. Be sure to include a link to your recorded webinar so they can find it again. You can even implement a little promotion for your company in this email. However, it is important to use caution to avoid coming off too strong and losing customers.
11. Send a Survey –
One of the best ways you can learn from your online webinar is by sending out a survey to your attendees. Ask what they liked and didn't like about your event so you can learn from their feedback for future events. Make sure you send out the surveys immediately following the
webinar
to ensure a better return.
12. Keep Your Cool-
Live online webinars aren't always going to go exactly as planned. Keep in mind that your audience is watching and may not even know you have made a mistake. Even if they do realize you made a mistake, it is important to keep a professional appearance and not show your frustrations to your audience. Simply move on and forget your mistakes.
13. Plan Well –
Without proper planning, a webinar will have a difficult time succeeding. To ensure success follow this checklist:
Did you send out the proper reminders to your attendees?
Did you practice your material so you know it well?
Have you promoted your event well enough?
Do you look presentable prior to going live with your presentation?
Have you checked the webinar provider for connectivity and other issues?
Do you know the timeline for your event so you can keep it on track?
Have you confirmed the presence of each of your presenters?
Have you prepared the right follow-up steps?
Are the presenters logged in at the start of the presentation?
Have you triple checked the recording equipment to ensure it works?
Is everyone in attendance?
With all the advances in the ability to reach out to a much larger audience through the use of an online webinar, it is important to make sure you are able to make the biggest impact. When you choose to use this method for reaching your intended audience, following these steps can ensure you use Onstream to host an effective webinar your viewers will remember.