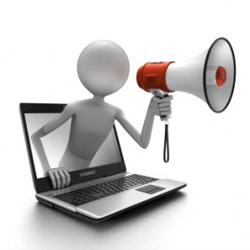 Once you have made the choice to use a webinar for your business purposes, you will need to consider how to let others know about the webinar to boost your attendance numbers. You will likely send out notices to everyone who is already on your mailing list, but you most likely want to use other methods as well. Social media is a great start, but there are plenty of other services out there that can help you promote your webinar so you can reach the greatest audience possible.
Online Promotion Services
Some websites are designed specifically to promote events online to reach a large audience. In fact, some of these websites, such as NAWBAW, WebinarBase.com and Webinarlistings.com, focus on helping businesses spread the word about their webinars. You can also use services, such as Eventsetter.com, which can be used to promote any type of event. With each of these sites, you will submit the details of your webinar, and they will see to it that it reaches your audience.
Online Press Releases
Most businesses already understand the importance of press releases. So why not use them to your advantage to spread the word about your webinar? With the ability to post these press releases online as well, using services, such as Marketwire and PR Newswire, your press release detailing your webinar will be distributed to a multitude of outlets to spread the word.
Social Media
The use of social media for business is still quickly growing. When your business has a presence on social media sites, such as Twitter, Facebook and LinkedIn, you will be able to reach a vast audience. All you need to do is post the details of your webinar and everyone who is following you will be notified. This can greatly increase your reach. This also makes it easier to pass the information on to people they know.
Online Invitation and Reservation Services
Giving attendees the ability to receive the invitations online and pass it on to others who might be interested, as well as the ability to reserve a spot at your webinar online, can be a useful tool. You can send out invitations using sites, such as E-vite and Anyvite. If you want to offer online registration services to your attendees, consider using sites like Eventbrite, EventWax and TicketLeap to offer this option.
Online Communities
The Internet is filled with communities that are aimed toward businesses and helping them operate more smoothly online. You can also place ads in a variety of places to let people know what is happening with your business. Use sites, such as CraigsList.com and FoundLocally.com, to place ads about your webinar, as well as Biznik and Xing, which are online business communities. You may even be able to get your webinar announced on sites like Eventful.com and Upcoming.
The ability to spread the word about your webinar is critical to the size of your attendance. While it is important to reach out to those who are already in your database, you will need to reach even further to ensure you can expand your reach even further. The more people you can get to attend your webinar, the easier it will be to grow your business.