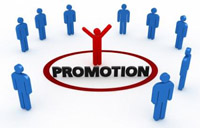 Social media, especially Twitter, can be a great way to promote your Onstream webinar in a way that will reach the largest audience with less effort. Because people are on Twitter all hours of the day and night, looking for items of interest and sharing their lives with others, it is important to post to Twitter often. However, you don't want to make them all promotional. Instead, create posts that include helpful hints, useful information and even quotes, as well as your promotional posts. Use one promotional post after every two to three informational posts, sending them out about every two hours.
Appeal to Your Audience
You won't be effective at marketing your webinar if you simply wait for everyone to come to you. If you can provide your audience with useful information they will love to read, you will know they will come back to read more and are more likely to attend your webinar. Make sure you pay attention to the latest trends on Twitter so you know what people are searching for. This will help people find you more easily.
Be Unique
In the business world, it is important to stand out. You want to show people who you are and how you are different from everyone else. Use your personality to show through on your Twitter posts, sharing insight as only you can. You don't want to simply share the same recycled information everyone else is already posting. You want something unique.
Use Hash Tags
There's good reason why hash tags exist. These tags are present to guide people to posts in which they will be interested. Make use of the trending hash tags when you tie your business into those trends. You can also use any other hash tags that relate to your webinar so people looking for information can find you. Mix it up to reach the largest audience. Don't be afraid to use multiple themes for one webinar. This will appeal to the greatest number of people.
Making good use of the social media tools you have can make your webinar an even greater success. When you know how to use Twitter properly, you can increase attendance at your webinar and gain an even better reputation in your field.