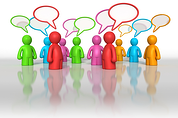 It has become more important than ever for businesses to make use of webinars as a way to better reach their target audience. Today, more people are looking to watch information online, rather than having to read it themselves. However, it is still important to keep your audience engaged during a live webinar. When you keep your audience engaged, you are more likely to get your message across effectively because they will have an easier time remaining attentive throughout the event. Follow these webinar tips to transform your passive audience into active participants.
Ask for Feedback
As a business, it is important to show your clients or customers you care about what they think. You can do this by encouraging them to provide you with feedback before, during and after your live webinar. While you can easily ask for feedback during webinars, it is critical to also ask for certain feedback before the event, as well as afterward. Before the event, use social media to gather ideas for what your audience would like to learn through your Onstream webinar. Afterward, send out a survey to learn what your audience felt about the presentation. All this feedback can help you better serve your customers.
Give Recognition
Everyone loves to be recognized. Look at all the situations where names are announced – graduations, radio contests and even sporting events. You can use this fact during your live webinar to make your audience feel as though they are a real part of your event. For instance, if your webinar is being held both in person and online, you can make sure to mention the number of online attendees who are also watching so everyone is aware of the true size of your audience.
Create Online-Only Content
Hybrid webinars, which are those that incorporate both a live audience and a remote audience, are becoming more popular. If you are holding this type of live webinar, it can be helpful to create content that is only available to your online audience. Sometimes your remote audience can feel as though they are intruding on the live event because they aren't there in person. You can battle against this feeling by providing them with recorded messages, such as interviews and special messages just for your remote audience.
Initiate Interaction
One of the most overlooked live webinar tips is to initiate the interaction between your participants yourself. Many webinar hosts seem to feel as if the audience should simply know they can or should interact with each other. This is often not the case. It is up to you to initiate this interaction. You can best do this by providing them with plenty of opportunities for interactions, such as chat abilities, break-out rooms and social media feeds. However, it is often up to you to break the ice and get your participants talking to each other before, during and after your event.
Use Different Presentation Methods
Webinars quickly become boring if they only involve showing slides and someone talking through the entire presentation. Therefore, you need to do what you can to mix up your presentation methods to keep your audience interested throughout. Most live webinar programs allow you to control what your audience sees on their devices. For instance, if you are showing slides that contain plenty of content that is important to your presentation, show those slides on a majority of the screen and minimize the speaker video into one corner. If you are using a poll or Q&A session, make sure that portion of the screen is maximized so it becomes the focal point. Mixing up these presentation methods will keep attention where it is needed the most.
Webinars are meant to provide value for the audience. While it is a good way to get the word out about your business and what you offer, this should not be your primary focus. Instead, you need to focus on how to keep your audience engaged and provide them with the information they require. When you use these webinar tips for your next live webinar, you will be able to get your message across loud and clear with an audience filled with active participants instead of passive listeners who may quickly lose interest. Onstream Media provides all of the relevant solutions to make your webinar as interactive as possible.