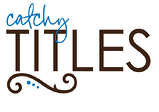 In order to capture the attention of your intended audience with an Onstream
live webinar
, it is important to come up with a title that is catchy. When you have a catchy title, you are more likely to achieve greater attendance. Without the right title, even the most informative online webinar will not receive a lot of attention. Follow these tips to come up with the most effective title for your next webinar.
1. Start with an Action – Strong action verbs are a great way to encourage people to take action. Engaging your audience with a call to action triggers the desire to attend your webinar and find out more.
2. Follow with the Outcome of Your Live Webinar – After your action verb, you should immediately follow with the purpose of your online webinar. The intent of your event is to fulfill the need of your potential customers or viewers. After they read the title of your event, they should know exactly how you can help them.
3. Use "How to" – People who typically attend webinar events want to learn something. When you include the words "how to" in your title, your potential audience will know exactly what they will learn if they attend your live webinar.
4. Make Use of Searchable Keywords – Keywords are an important element in the Internet world. Make sure you choose keywords people are likely to search when they require what your online webinar can offer. This will attract the attention of the major search engines and ensure more people find your event.
5. Use Odd Numbers – If you are offering a number of tips to your viewers, odd numbers are more appealing than even numbers. It is also important to keep these numbers under 10. Although no one is really sure why these numbers are more attractive, you can improve your audience size by using three, five or seven in your title.
While you can easily attract more attention with just one or two of these tips, the more of these features you are able to add to your title, the larger your webinar audience will be. However, it is also important to keep your title short and concise, attracting the attention of potential viewers and increasing your reach.