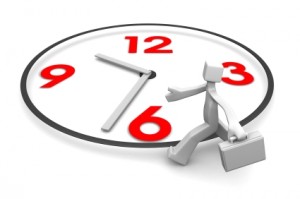 Webcasting and web conferencing have become a popular method for businesses to reach out to their potential and current customers, as well as to hold meetings among business associates. When it comes to holding a live web event, though, as many as 50 percent of these meetings and events do not start on time. Because time is money in the business world, it is important to learn how to avoid starting your events late to increase efficiency and profitability.
Send Invitations
Always send out invitations to everyone you would like to attend with all the log-in information they need. Be sure to include a one-touch link for anyone who will be accessing your webcasting or web conferencing event via mobile devices.
Email Reminders
Email reminders are a great way to ensure everyone is on time and ready to go. Send out an email reminder one hour before your webcasting event, letting everyone that signed up know that the event will be starting shortly. This aids in increasing your attendance and preventing latecomers.
Arrive Early
If you are in charge of the live web event, make sure you show up at least 15 minutes early so you are there when others arrive. When you log in, send out another reminder email to tell everyone you are there. This email should also contain the log-in information to make it easy for everyone to arrive.
Avoid Downloads
If you can, use webcasting software that doesn't require your viewers to download anything. When users need to download something to access your event, they could be stuck in the downloading process when your event should already have started. This puts you in a situation of either waiting for everyone to be ready or beginning the event without all of the attendees.
Call Absentees
If someone doesn't show up on time or seems to be struggling with getting the web conferencing software to work, call them on their telephone to allow them to at least hear the presentation so you don't need to delay the start for everyone else.
Testing
Encourage those who sign up for your web conferencing event to test out the system before the big day. This allows everyone to determine if they have problems they need to work out before the event. This testing process is especially important when you are using a new type of event software.
Choose Carefully
When you are selecting your webcasting software, it is important to have a good feel for how technologically savvy your audience is. When you consider your audience, you will be able to choose the type of software everyone will be able to use with ease, reducing the chances of problems that will hold up your event. If you feel someone may have trouble, send written or video instructions via email.
Screen Sharing
If you will use screen sharing in your live web event, it is important to launch it before the event is scheduled to start. Logging in early will ensure the screen sharing is working properly. You also won't have to wait for it to load. Make sure you turn off email and instant messaging software to prevent unwanted pop-ups on your screen during sharing.
Offer Multiple Options
Always offer multiple options so everyone who needs to be there can attend. This reduces the risk of someone coming in late because he had to get to a computer with an Internet connection instead of calling in on his cell phone. Many of the popular access options include web browser, calls through an Internet connection, land-line phone calls and mobile apps.
Lock the Meeting
It may seem rude or inappropriate, but to avoid starting your live web event late, it is important to lock out the meeting after waiting about five minutes for those last-minute stragglers. If people realize you won't welcome latecomers who stall your event to your webcasting or web conferencing, they are more likely to show up on time next time.
Use these tips and you will be able to decrease the number of times you start your live web event on time, saving everyone time and money.