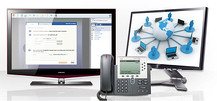 Many businesses are looking for ways to make their meetings easier for everyone to attend and to hold impromptu meetings without causing major disruption to the work day flow.As such, more companies are choosing to use web conferencing or phone conferencing to hold their meetings between employees. In addition, the latest advances in conferencing software allows businesses to hold more of these meetings with improved functionality and time saved.
Web Conferencing
Today, video conferencing allows you to actually see the person you are talking to with the help of web cams. In addition to being able to see each other, you are also able to interact more easily with audio conferencing features with a microphone and headset. This makes holding these meetings as close to holding them in person as possible.
Potential Problems
Even in today's technologically advanced world, not everyone can easily make use of web conferencing software. Some people may be away from their computers or may be connected via an unreliable or slow connection. In these situations, what are attendees supposed to do? In the past, this could mean missing the meeting altogether. Fortunately today, there are more options available, such as integrating phone conferencing and web conferencing together.
The Solution
With the integration of audio conferencing and web conferencing, you can offer everyone options in how they will access your meeting. Instead of requiring people to use a microphone and headset to listen to the audio and communicate with the rest of the attendees as they watch the video aspect online, they will be able to call in to a specified telephone number and access the audio aspects through phone conferencing. Some conferencing software even posts the call-in number and access code in the video aspect of the meeting.
However, there are still the cases of those who don't have access to the Internet or their connection is too slow. For these people, the integration of both types of conferencing will allow those users to access the audio conferencing aspect of your meeting. Even though they won't be able to see what is going on, they can still be involved. This also makes it easier for those who aren't ready to take the plunge into web conferencing.
The Best of Both Worlds
When you are able to integrate the phone conferencing you are used to with the web conferencing, you will be able to enhance the experience for everyone involved. Being able to implement PowerPoint presentations, polls, surveys, application sharing and chat rooms, you will be able to provide your audience with even more information and keep them engaged and participating throughout the entire process. Even if you are inviting people who aren't able to take part in the online aspects or are unwilling to change their ways from the traditional audio conferencing, offering an integrated version will ensure no one is left behind.