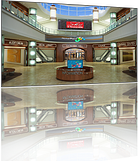 In the past, the only way companies could advertise at tradeshows was to actually attend them in person. Today, though, the virtual tradeshow is becoming a more popular trend for many businesses. These virtual tradeshows allow you to reach a larger audience, sometimes even a global audience with greater ease. There are so many benefits to showing at and attending these virtual events, including money savings and the convenience of being able to attend from anywhere without the need to travel great distances. If traditional tradeshows are part of your current business strategy, consider these virtual tradeshow tips from Onstream Media to determine if you are ready to make the switch.
About Virtual Tradeshows
The first question many people have is concerning the differences between a virtual tradeshow and a traditional one. The most obvious difference is a virtual show takes place online, while a traditional one requires you to be there in person. Whichever type of event you choose, you will have a booth, either virtually or in person. Instead of being in a large hall, you will be in a virtual convention environment, making you feel like you are really at a traditional tradeshow.
During the virtual event, attendees will be able to browse through the booths, just like they can when they walk around a convention center. However, instead of having to battle the crowds when attending in person, attendees will be able to quickly access any booth they think is interesting or appealing. This also means businesses have to work hard to attract the attention of their audience and hold it. As a business, this improves the efficiency of your booth, reaches a larger audience and even admits more people into your booth at once than can fit in a traditional setting.
Try It Out
If you still aren't sure if a virtual tradeshow is right for you, the next of the virtual tradeshow tips indicates you should try one out as an attendee. While these shows can provide you with access to a much larger audience without spending as much money, it can still be intimidating. Attending a virtual tradeshow to see what it is like and how it looks to attendees can help you gauge whether it is a good fit for your target audience. Because these shows are often free to attend, it is easy to give it a try.
When you take the time to attend a tradeshow virtually, you will see how other companies set up their booths so you can evaluate what works and what doesn't. At a tradeshow, you can look at the various designs, see what the presenters have to offer and even listen to their presentations. Once you see what others are doing, you will have an easier time setting up your own virtual booth.
How to Participate
You will save a lot of money and time by showing at virtual shows instead of traditional shows. The technical aspect is also much cheaper than most companies anticipate. Businesses that attend traditional tradeshows often spend thousands of dollars on their booth design and presentations. Virtual tradeshows often cost less to enter and don't require the large travel budget traditional tradeshows call for.
When you choose to attend a virtual tradeshow, you select a representative of your company that will sit with your booth. If it is a longer show, you may need to use more than one person on a schedule. As visitors enter your booth, a typed or video chat box will appear, allowing your representative to interact with visitors in real-time. Attendees can look through your profile for more information, and you can provide them with downloadable brochures, landing pages, and email capture forms so you can offer more information to attendees.
Choosing to participate in an online tradeshow with these virtual tradeshow tips allows you to save plenty of money over traditional shows. Onstream Media can provide you with plenty of options for virtual tradeshows through their virtual event platform, Marketplace365. With their knowledge and experience, they can help you set up the best possible tradeshow booth to attract visitors and provide them with the information they seek.