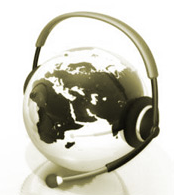 With today's global economy, it is more important than ever for individuals and companies to be able to reach a global audience. While the Internet and online conferencing have made it easier to reach people around the world, this doesn't mean phone conferencing is a thing of the past for international conferences. With the use of smartphones, you will notice that just about everyone is using their phones on a regular basis. This makes audio conferencing one of the best ways to stay in touch with a global market.
A Mobile Environment
Being mobile is prevalent in today's society. People seem to have their phones on hand at all times. When you choose conferencing over the phone, you won't have to be concerned with whether your attendees are close to a computer at the scheduled time. They will be able to call in, no matter where they are, such as in the parking lot, at the park or even during their commute.
Why Not Email?
Email would seem like the perfect alternative to reach everyone instantly for free. While email can be an important tool, it is not as effective as audio conferencing for the same impact. On a conference call, everyone will receive the same information in real-time when they can interact with each other and exchange information quickly and easily. Verbal communication also makes understanding easier, rather than relying on appropriate interpretation through written communication. Phone conferencing can also offer team-building, helping each person feel like a real part of the team instead of a disjointed group.
Eliminate Travel
In the past, travel was required if you intended to do business on an international level. The international audio conferencing allows you to remain in contact with international team members and clients without even leaving your office. This allows you to reduce the amount of money your business spends on travel, as well as the time it takes to travel from one place to another. Traveling around the world can take up a lot of time, which could otherwise be spent on other aspects of the business.
Low Rates
International calling rates were once high, causing businesses to steer away from international calls. Today, though, these calling rates have dropped to all-time lows, making phone conferencing an effective and cost-saving measure businesses can use to reach a global market. When your business sets up an audio conference, you will be able to provide users with a toll-free number they can call, saving them money on making this type of call. Your attendees will be able to make the call from anywhere at any time, keeping everyone connected.
Hold Your Conference Any Time
Audio conferencing isn't limited for the time of day you can reach out to your attendees. Even if you have to take time zone differences into account, you can schedule your conferencing calls at any time on any day. If your phone conferencing will require the attendance of people in various areas of the world, you will need to carefully plan the time of day. However, it is important to realize some people will need to call in at an odd time of day. The best method of choosing a time is to determine which time is most convenient for a larger number of attendees. If these calls are a regular occurrence, you may want to consider a rotating schedule to reduce the burden on those who typically call at inconvenient times of the day.
Record the Calls
Another great benefit of phone conferencing is the ability to record the calls. Instead of having to take notes throughout the call, you will receive a recorded copy of the call you can listen to again, as well as share with those who attended and those who were unable to attend. How you use your recorded audio conferencing is up to you; the options are limitless.
Being able to reach out to a global audience is more important today than it has ever been in the past. It is also much easier with the use of audio conferencing. Before you limit yourself to online events, consider the benefits of phone conferencing to make the most of your international contact requirements.