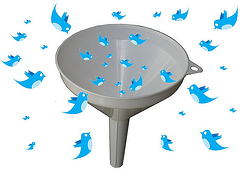 Even though social media was originally created to help people stay in touch with family and friends, it has become the perfect marketplace for companies to talk to each other and their customers to better grow their businesses. Because of the fast pace Twitter employs, it can be the perfect option to stay on top of communicating quality content about your business. When you make use of Twitter, you will be able to quickly compose messages that will be better able to reach your intended audience, helping you with lead generation that is essential to growing your business.
Tweets for Searches
A great method for using Twitter as a lead generation tool is by creating promoted tweets that will show up in the searches. Creating a promotion or two that is detailed in two to three tweets will allow you to reach a great number of users. Make sure you use several keywords for these campaigns to help people more easily find you when they search. It is also important to make sure the tweets you create is relevant and timely.
When you choose to run promoted tweets in searches for this social media network, it is important to pay attention to major events in your industry. When major events occur, Twitter will be overrun with people looking for information. Take advantage of this increased traffic. Make use of event-specific hashtags and join the conversation to help build your lead generation efforts.
Tweets for Timelines
Another way to utilize Twitter for lead generation is ensuring that your business makes use of promoted tweets in timelines. By doing so, you are targeting the people who are following you, as well as other users who have similar interests to your followers. To have the biggest impact with these tweets, you need to make sure the content is timely and something that will engage your readers to interact with you. All you need to do is set up a series of tweets that will be rotated through the timeline for a set period of time before you set up a new social media campaign.
Messages
While it is important to focus on advertising your business on Twitter, it shouldn't be the only focus of your social media efforts. No one likes a Twitter user who only talks about themselves. Engage in other conversations to become an active participant and earn yourself more followers and leads. Don't be afraid to join in on fun posts and other conversations, especially those that are started by your followers. They will appreciate that you are paying attention to what they have to say, even when it doesn't relate to your business.
Your goal in using any social media for lead generation is to contribute useful information. This includes retweeting posts you find that are relevant to your business and useful to your followers. However, it is still important to make sure you also write your own content.
When you are using Twitter for your own promotion, it is important to remember a couple of tips to avoid turning off your audience.
Only promote your business about 20 percent of the time. The other 80 percent should be fun, engaging posts.
For every nine tweets that are related to your industry in general or your topics of interest, post one about your business specifically.
Managing Results and Tracking
Being able to track your results is an important aspect of using Twitter for lead generation. If you don't use tracking, you won't know how successful your efforts are so you can make any necessary adjustments. One of the best ways to track your progress is to review the feeds of anyone who starts following you so you can learn how to better engage them. Another important thing to do is to track your lead conversion rate, keeping close track of how many Twitter leads convert to sales.
Being active in your lead generation is critical to your business's success. With social media sites, such as Twitter, it is important for you to learn how to engage your customers, as well as find leads for new customers, so you can realize greater growth for your business. Onstream Media is a leading online service provider of corporate audio and web communications; because of the prevalence of social media in today's society it is important to consider incorporating this aspect of communication into your organization's strategy.