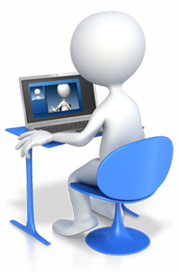 You may have heard the term "webcast" or "webcasting" but aren't really sure what it means. In the most basic terms, a webcast is any transmission of information over the Internet that makes use of streaming technology. A webcast can consist of either audio and/or video and is watched streaming instead of having to download it onto your computer. If you have ever watched a video on YouTube, for instance, you have made use of a webcast. These webcasts are used by major media outlets, as well as universities, businesses and many other organizations that have information to share.
Forms of Webcasting
Webcasting basically takes on one of two different forms. Live broadcasts are those that are taking place at the moment and streaming to viewers as it happens. The other form is on-demand webcasting. With this form, viewers are able to watch the webcast at their own convenience instead of having to stream it at a specific time. On-demand webcasts are often stored on a server so people can watch them for an indefinite period of time. Some businesses even choose to record their live webcasts to offer them on-demand later.
Webcasting History
The history of webcasting is not long compared to other periods of history. Webcasting was first proposed in 1989, though the term "webcast" was not yet used. In fact, the web as it is didn't yet exist. Within the following few years, the first webcasts were successfully created and used. As technology advanced, more people are taking advantage of these webcasts because of the widespread use of high-speed Internet options that make streaming much more effective. Today, it is easier for anyone to create a webcast and broadcast it over the Internet for people around the world to see.
Today, webcasting has many uses in life. As long as someone has an Internet connection, he will be able to access webcasts, though broadband is much more efficient than dial-up. Internet users are able to find webcasts just about anywhere they go on the Internet today. Whether they want to stay up to date on the latest news, find out information about a company or just find some online entertainment, webcasts have come a long way to become a daily part of life for many people. This makes it an important feature to use for many businesses to reach their intended audience.