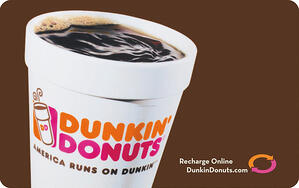 As a leader in providing online rich-media communications, we at Onstream know that every webcast, webinar, or video conference goes better with a glazed donut and a cup of the tastiest coffee around. As we continue to build our digital community, we want to offer you a chance to reward yourself for joining the conversation. Read on to see how you can win a $5 Dunkin Donuts gift card, courtesy of Onstream Media.
HOW IT WORKS:
1. Twice per week for 4 weeks (Wednesday, October 3rd to Friday, November 2nd), we will leave a technology-related "This or That" question in the blog comments. Simply respond with your preferred choice and be automatically entered to win a $5 Dunkin Donuts gift card!
2. For an additional chance to win, respond with your choice on Twitter using the hashtag #virtualcoffeebreak.
3. A winner will be randomly selected at the end of each week. This person will be contacted by email to obtain mailing address and contact information. If a response is not received in 24 hours, another winner will be selected.
4. The item that was chosen the most and the first name of the winner will be announced in the blog comments at the beginning of each week through the conclusion of the program.
Click here to find our "This or That" questions: www.twitter.com/onstreammedia
You can also find us on Facebook, Google Plus and Linkedin for even more informative and entertaining conversation about video technology.
Thanks for playing and enjoy the rest of our newly redeveloped website!