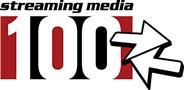 POMPANO BEACH, FL, October 11, 2011- Streaming Media magazine announced today that Infinite Conferencing's parent corporate, Onstream Media Corporation (NASDAQ: ONSM), a leading online service provider of live and on-demand corporate audio and web communications, virtual event technology, and social media marketing, is among the top 100 online video companies they have identified as the chief contributors and future architects of the video marketplace. This year's Streaming Media 100 will be published in the October/November issue of the magazine, as well as the publication's website at www.streamingmedia.com.
"The companies in the Streaming Media 100 represent many different pieces of the online video ecosystem," said Streaming Media editor Eric Schumacher-Rasmussen, "but they all have one thing in common: The world of online video today would be markedly different without any of them. Each one, in its own way, has made the online video industry what it is today and is pushing it towards the future."
Streaming Media 100 is a prestigious honor within the all-encompassing online video industry. Streaming Media staff and contributing editors offer their recommendations for those who should be included in the list, then a panel of judges reviews the nominations, debating the strengths and accomplishments of each, until they are in agreement as to who should make the final list of top 100 candidates. Every segment of the online video ecosystem is in the running for this honor, so the pool of candidates is vast and diverse. The list honors innovation and impact, and is weighted by the judges' opinions with regard to who will continue to emerge as consistent industry trailblazers.
"Onstream Media is pleased to be recognized for its track record of providing consistently successful solutions for live and on-demand rich media communications", said Randy Selman, CEO of Onstream Media. The company's approach to tailoring solutions has forged a culture of creating powerful tools to solve existing problems, as well as anticipating future demand for data, video, and voice innovations.
For a full-list of the 100 named companies, visit Streaming Media's website.