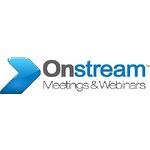 As the old saying goes, "the best things in life are free" and yes this holds true for web conferencing as well. Onstream Media recently released its 100% free web conferencing service based on their award winning technology. The new service allows for up to 3 participants to enable their webcam, and is completely browser based. Some of the more attractive features include desktop sharing, recording, polling, Q&A, whiteboard, chat, Youtube integration and much more.
Ad Free and Straight Forward
Unlike other free conferencing services, OnstreamMeetingsFree is 100% ad free. That means no annoying pop up ads, or distracting banners. When you log on to OnstreamMeetingsFree, the only thing you should concentrate on is the meeting at hand-not advertisements.
With OnstreamMeetingsFree you will be accessing the exact award winning Onstream platform. You can expect the same interface, same features, and same great experience that you will find with other Onstream services. There are no surprises or gimmicks, just an unbeatable service with unsurpassed quality.
Effortless Collaboration
Creativity can spark at a moment's notice. Why let a subpar web conferencing platform hinder your opportunity to collaborate? With OnstreamMeetingsFree you will never have to worry about poor communication quality. Enjoy crystal clear audio and video at all times so you can seamlessly collaborate on that next "big idea".
Whether you are conducting a sales demo, employee training, or just want to brainstorm OnstreamMeetingsFree is the solution for you. OnstreamMeetingsFree facilitates productivity by offering many useful features. Share desktops, presentations, or videos all with a few clicks of your mouse.
No Credit Cards, No Problem
Signing up for OnstreamMeetingsFree is fast and simple. Just visit free.onstreammedia.com fill out the form and get instant access to unlimited meetings. It's that easy! Your participants will not need an account to join the meeting either. As long as they have your personalized room link they can jump directly into the meeting.
Connecting On-The-Go
If you are looking to collaborate quickly on the go, OnstreamMeetingsFree can accommodate. Just download the Onstream Webinars app to your Android or iOS device and you won't miss a second of any meeting.
Unrelenting Security
OnstreamMeetingsFree comes standard with 256 bit SSL encryption which is the highest industry standard in security. Rest assured that your sensitive information will be safe on OnstreamMeetingsFree. As an added security feature, meetings can be set to private and require customized passwords for all participants.
Be sure to signup today for your OnstreamMeetingsFree account!