There's a lot of creativity (and, subsequently, subjectivity) involved in the B2B marketing space—that's why we're here. How can you make your content marketing work for you? What's the best way to reach your prospects? When you get through to them, what should you say? Is it possible to deliver thorough messaging in a way that cuts through all the digital noise? The list of questions goes on and on, but I think at the core of all these questions lies a universal quest to win a game in which the rules are undefined. The good news is that not all marketing questions require existential thought and copious amounts of coffee to answer—in some circumstances, the data does the talking. And, like your momma always said, sometimes it's better to sit back and listen. Need to up your lead gen game? Let's take a few minutes to examine what B2B lead generation tactics are the most effective. This is science, people.
Top B2B Lead Generation Challenges and Priorities (By the Numbers)
A recent eMedia survey of over 600 marketers (titled B2B Lead Generation: Trends Report) took a crack at what the lead gen process really looks like out in the field. Sixty-eight percent of respondents, for example, reported that increasing lead quality was more important than increasing lead volume—an indicator, perhaps, of a tide shifting to targeted, value-driven initiatives that enhance the omnichannel customer experience rather than merely count clicks (See Figure 1 below).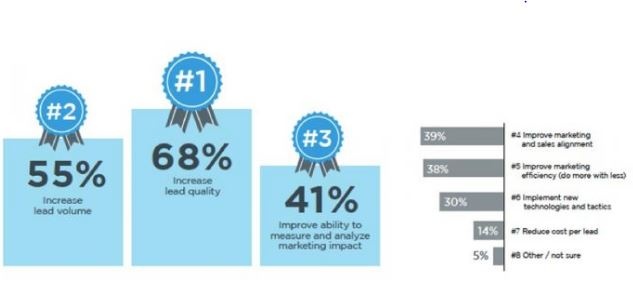 Here's something ironic but not surprising: Respondents named lead quality as their most important priority but also their biggest challenge (59 percent). They also identified conversion, lead nurturing and the ever-present quest for ROI as lead gen pain points. See Figure 2 below for a breakdown.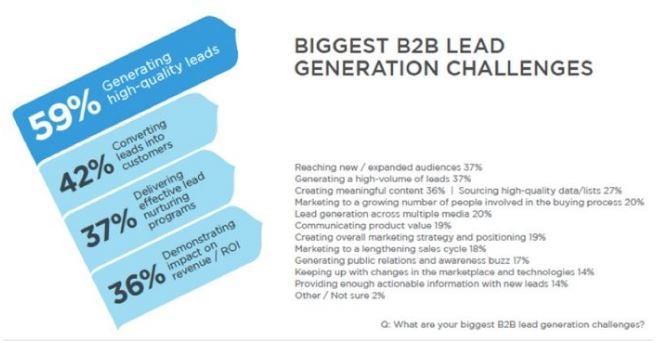 Let's note here that when it comes to marketing ROI, different businesses have different ideas about how to best measure it. And, come to think of it, it's hard to tell who is right and who is wrong because more than a third of respondents to eMedia's survey reported struggling in this area. The data still lives, though: Fifty-nine percent of respondents said they rely on lead volume, 51 percent on total revenue, and half on web traffic. Lead quality crept in midway through the list, with 46 percent of respondents citing it as a reliable metric.
Survey Says: Email Rules, Print Drools
We've learned from the above findings that marketers care about the quality of their leads but aren't quite sure how to best generate them, as 80 percent of survey respondents rated their efforts at only "slightly or somewhat" effective. If you ask me, this could be an issue of approach. Let's shed some light on this catch-22 by breaking down the data on what tactics are truly most effective.
As you'll see from Figure 3 below, events like tradeshows and conferences are top dog in the world of B2B lead gen initiatives. Print advertising continues to be on the decline but surprisingly still made the list, albeit at the bottom. (That's probably out of respect for one of the founding fathers of advertising, but I don't think it'll be on the list much longer.) Also surprising (to some) is that despite all the hype for social and other trendy vehicles, email marketing still ranks higher as an effective go-to for most B2B marketers.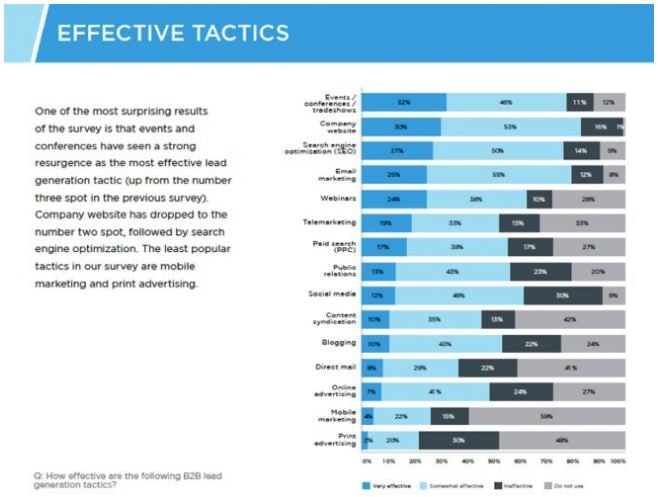 Spotlight on Webinars
Figure 3 above shows that webinars are ranked as the fifth most effective lead gen tactic. A study we recently sponsored—The Marketing Scope Survey Report: Lead Generation—uncovered similar results, placing these online events at fourth most effective. Why all the fuss over webinars? It's time to spotlight this underutilized tool and give you some tips for webinar success.
Think about it: In-person events are ranked number one for B2B lead generation because they're all about content immersion and face-time with experts your audience cares about. Done well, and webinars can do the same thing—all the while boasting the hyper-efficiency and cost-effectiveness of digital mediums. That's not to say you should cut out conferences all together, but you can only do so many in-person events. Try gaining a personal touch with prospects on a global scale by hosting a webinar a few times a quarter or even monthly to test the waters.
To host a successful webinar, consider the following suggestions:
Pack it chock full of thoughtful, well-developed content. This is the cornerstone of anything you do in marketing, by the way—content that doesn't add value is a waste of time for both you and your audience.
Pick presenters who are enthusiastic, knowledgeable, and relatable. Webinar presenters are more than talking heads for a reason. You want your audience to engage with your content, and that starts by feeling comfortable with the speaker. Choose wisely.
Promote your webinar before airing. If a tree falls in the forest and nobody is around to hear it, does it make a sound? Debatable. If you create the world's best webinar but don't promote it, will anyone know it exists? No.
Promote your webinar after airing. Yes, you read that correctly. As long as your content isn't dated, webinar's don't die after one showing. These are resources audiences can come back to again and again—but you will have to remind them from time to time.
How does your business approach B2B lead generation? Have you had any luck with webinars in the past, or has another tactic proven itself most worthy? Now, the million-dollar question: How are you measuring ROI? I'd love to hear your thoughts.

By Eric Vidal - Chief Content Officer, The Marketing Scope
Originally published on The Marketing Scope blog